Images in Limbo: 'Compositioning' Photographic Debris in the 'Climatic Regime'
Photography today is much less about a single image or a single moment of time; rather it is a continuum of networked images and moments that are continually altered and edited, processed and transformed. The context for my research project is this massive and ever-increasing amount of photographs that exist in the world. More specifically it is the massive and ever-increasing amount of photographic waste that exists in the world. It is a phenomenon that is discussed much less, and an issue that makes me doubt if I as an artist should produce any more images at all. Everyone creates image debris—the material left over, or discarded, or just not in use, during the processing of images. But as a professional photographer I am especially aware of it, since my computer hard drive regularly fills up with Terabytes of folders of images, fragments of images that don't end up in my final compositions. What is this material that is in limbo between the state of being trash and potential raw material? I've come to think of them as my not-dead-yet images.
Are there alternative creative methods to reconceptualize and recontextualize The Photographic, and to experiment with my images-in-transition? I want to find out if methodologies that evolve from non-Anthropocentric ways of living such as Anna Tsing's concept of 'contamination-as-collaboration' can be useful in developing artistic strategies that engage photographic image debris. For example, could I interpret 'reciprocity' as trying to engage with my photographic images,'metamorphosis' as embracing the fact that the appearance of an image can change over time, 'collage' as making something other out of many, and 'impermanence' as welcoming the fact that nothing is stable? In what ways can I, as an artist, use these methods to animate, augment, materialize and transform my digital photo debris, my 'Zombie' images into compost for composing post-photographic art?
I decided to work with a specific set of 467 DNG photographs left over from my project 'Fast Fashion, Wastescapes 2021'. In my ongoing attempts to reactivate my own image debris I am experimenting with a set of variations and improvisations where I collaborate with humans and machines, I use object reconstruction software and algorithms as tools to process the waste images.
I use collage techniques as the main guideline when making and I consider failure as a possible companion. Inspired by what Heather Davis coins as 'Queer Kin' and her invitation to 'Go closer to what distracts you', I am following both, my irritation and affection for the image debris I created. Through doing so, I am starting to conceive of debris-processing as object, method and concept at the same time.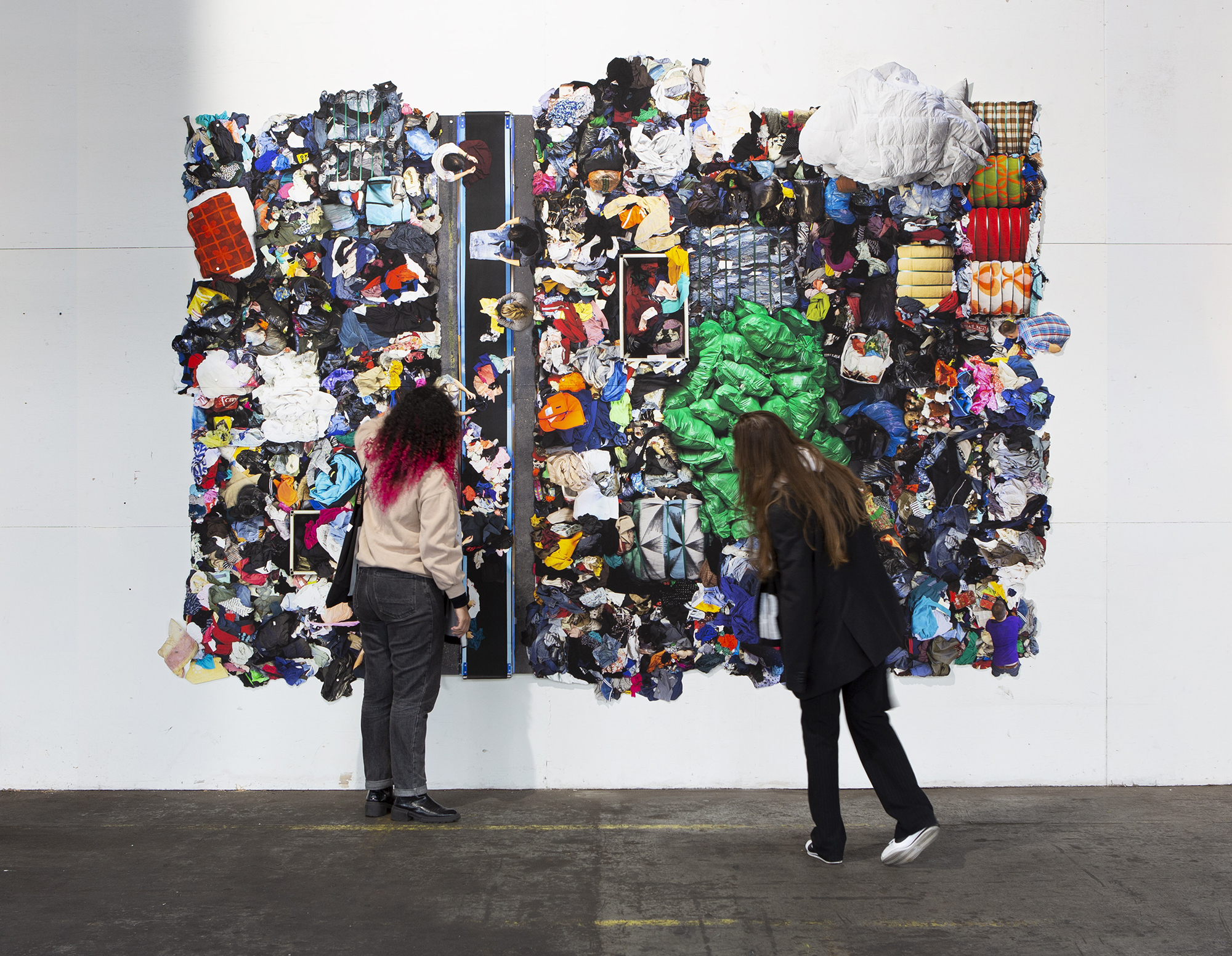 Extract from: Research fieldwork
A conversation, 10.09.2021, Amsterdam between Katrin Korfmann and Annet Dekker, Assistant Professor, Media Studies: Archival and Information Studies, University of Amsterdam and Visiting Professor, Centre for the Study of the Networked Image, London South Bank University.
KK: In your essay 'Between Light and Dark Archiving', you talk about the digital archive as an oxymoron and as a recycling center. Could you expand on these ideas.
AD: The comment I make in the article was related to something Pascal Gielen and Rudi Laermans discuss in their essay 'The Archive of the Digital An-Archive' (2007), and it also relates to what Wolfgang Ernst has mentioned in relation to the difference between conventional archiving and digital archiving, particularly in online environments. With all kinds of different processes happening at the same time it is hard to see the forest for the trees: there is a constant regeneration of information and an accumulation of relational links between data, as well at the bit level, which can make it more difficult to distinguish the data from the metadata. The reference to a recycling centre is based on the idea that online content is in perpetual circulation; instead of in permanent storage, as in the conventional meaning of an archive. So, while these social media platforms are often referred to as 'archives', it's important to realize that it's actually very different from how archival institutions are functioning—as places where everything is structured and standardized in specific ways and according to defined sets of ethical qualities and values.
KK: According to Joan Fontcuberta, each day 800 million images get uploaded to Snapchat, 315 million to Facebook, and 80 million to Instagram. Considering that there are currently more machines taking pictures than humans, I wonder: how do you relate to digital archives that have so much data, that experts don't know any more how to organize and to structure them.
AD: Within the platforms you mention all kinds of processes are happening. Some algorithms make certain things visible while hiding others, or unclear connections are made between different things. This is clearly present in machine-editing software where all kinds of things are stitched together, based on whatever the algorithm considers to be appropriate for its quest. And so, it brings out certain things, and it ignores other things. That's what I'm really interested in: how do these systems function? How come that they share certain things but not other things, and how can you retrace the bias that emerges?
KK: Exactly, and it's impossible to understand as a consumer. I have no clue why the algorithm is showing or hiding certain photographs in the feed.
AD: Indeed, and few do. As programmer and writer Ellen Ullman mentions, usually programmers also don't recall what they did exactly. It is a myth that a programmer knows everything. Moreover, programming is solution-oriented: there is a problem that needs to be fixed or a question that needs to be answered. Also, when something breaks, instead of going back into the code to fix it, usually more code is built around it. So, you get an accumulation of code that becomes a maze in which it is hard to retrace or recall what is done, at what moment or by whom.
[...]
KK: Big tech companies make deletion very difficult. They're keeping all these images. We could see this also in a recent student project, 'You Shall be Spam' (taught in collaboration with Hannes Bernard), where students were still able to scrape images they uploaded 10, 15 years ago from apps we didn't even know existed any more. Why do these companies want to keep all these images? Is this image capital? Do they think they can use them at some point? As a kind of fertilizer? Who is making the decision if a photograph is trash or possible humus? Nowadays, it is way more difficult to delete an image than to create it. Is deletion at all possible?
AD: It's cheaper to save than to delete. Because the latter requires selection criteria or a set-up to delete selectively. This became an interesting challenge for the Library of Congress in the US who decided to archive Twitter and soon encountered all kinds of problems. Some of them were simple, such as problems of quantity and storage: how to store these huge amounts of data that keeps increasing exponentially? Yet it became more ethically difficult when considering what to archive: did users provide their consent to preserve their tweets? It's one thing to consent to giving your data to Twitter, but another to have it stored for 'eternity'. But also, how to handle the difference between private and public accounts? You may have a private Twitter account so the Library of Congress could say 'we won't open up the private accounts', but that still doesn't really say much, because some of your friends may have retweeted your private Tweet on their public account. So, what to do with retweets? It's a simple example but more questions extrapolate from it. In other words, it's the linking, the network and relations to privacy that make it difficult to start deleting individual data.
[...]
KK: I would like to talk about the growing amount of photographic images. On the one hand it's an energy-sucking problem of our age, but you can also see that all these images can create a lot of possibilities. The amount of data centers is constantly growing, especially in the Netherlands. What is your view on the unlimited photographic image in what Latour calls the 'Climatic Regime'? And how does the hoarding, duplication and storage of images relate to energy consumption necessary to manage all the image data?
AD: Yes this is a very important topic that is often ignored. It also links to my idea of preservation and what I've called the paradox of digital sustainability; because the digital is not sustainable. On the one hand it's not sustainable because there is constant change; updates are required which can lead to aesthetic, contextual or functional changes in the content. With any translation you lose something of the original. It's also not sustainable in an organizational way because you constantly need new knowledge to update, migrate etc. Related to the lack of knowledge and thus the continuous necessity for new staff and resources, are the methods of preservation. The technical rat-race of migrating etc. comes at a high energy cost, which results in significant carbon footprints for many digital heritage projects. Basically, over time a simple website may require several additional layers of software and hardware components just to enable its original functionality. So, digital preservation presents a challenge to the ecological environment. I think it's important to rethink what preservation, and thus (cultural) memory, actually mean when considering the unsustainability of the digital.